Adio Kerida →
Spring Break Bulgaria, 2013
Shabbat Shalom from Belgrade →
Check out this article on my time in Deutschland! →
JDC wrote an article on my time and work in Germany from 2010 to 2012. I lived in Germany for two years working with Jewish immigrants from the Former Soviet Union, who in the last 20 years moved to Germany and began for the first time to rediscover their Jewish identity. Enjoy!
Auf Wiedersehen Deutschland und дочекати Serbia!
Aufweidersehen Deutschland und дочекати  Serbia! It was really hard to leave Germany. Over the past two year, Germany became my home and my friends there became my family. I could have never imagined finding such amazing roommates over the internet that would grow to be like brothers.  I learned more in Germany about myself than I ever imagined, as I was challenged in ways that I had never been...
Recently I was at      in Berlin! If you are not familiar with Limmud, it is a place… where Jews of all religious and political backgrounds meet to learn, discuss and celebrate together where you can expect to meet Jews who are different from you where you can learn something new, whether you know nothing or you are a rabbi or professor where participants themselves decide what they want to...
Jewish Lesbians, Treblinka & Miniskirts
(Susan) Jewish Lesbians, Treblinka & Miniskirts, do you have any idea what I am getting at? Probably not…. as neither did I and that was just the introduction… I was praying that anyone slightly conservative or square would have already been deterred from the workshop's title, "I Knew Nothing: Tales of a Clueless Jew," and would have otherwise chosen the exciting reading on Родовое кольцо...
Moving forward and looking back
A few weeks ago I began JSC year two. I moved across the country into a guest room above a synagogue, with no internet, in a small German town, where McDonalds is the only place open after 9pm. Although this was only temporary until I found an apartment, I experienced deja vu, and returned to September 12, 2010, the day I first arrived in Berlin.  I was struck like a deer in the headlights.. (as...
This one makes three!
A lot has happened since I last blogged! In the past two months the new fellow has arrived and three generations of JSC fellows have crossed paths in Berlin. Upon Yahel's arrival we, Molly and I, decided to do what we do best… Make a delicious breakfast! Below are photos from Yahel's arrival!  Yahel's Arrival, making biscuits at 7am!  the breakfast table! We are ready...
This past weekend was Limmud! A four day festival of Jewish learning, at a beautiful campsite, just north of Berlin. Early Thursday morning I set out with the Bambinim Team and some volunteers who joined us for the weekend. Bambinim Familyclub ran the kids program for children ages 0 to 6 at Limmud.   Blessing the Shabbat candles. Making ceramics with Chaim! Shabbat Shalom! ...
Passover in Berlin
  This year we organized a Pesach Seder for young adults in Berlin. Our goal was to empower the participants to lead and organize the Seder, while we provided the necessary support and resources. Our Seder was run by volunteers. Fifteen people attended, nine of Russian background, three of German background, one Israeli, and Molly and I. The demographic of our Seder was not by accident, as it...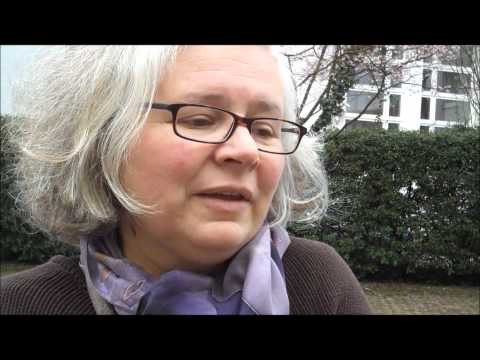 Above the Clouds in Bansko, Bulgaria
February 2nd to 6th, I participated in 'White Gesher' in Bansko, Bulgaria. A weekend of skiing and snowboarding sponsored by the JDC, was filled with educational workshops on various topics related to Judaism and an unique Shabbat experience. 70 people from more than 10 different countries were present- Albania, Bulgaria, Germany, Hungary, Israel, Italy, Macedonia, Romania, Serbia, Switzerland and...
Photo Essay: Celebrating Tu B'Shvat with Bambinim... →
Bambinim Familyclub is a JDC program in Berlin, Germany for Jewish families with young children. At the Bambinim center,  families can participate in a variety of educational and cultural courses and programs led in German, Russian, English and Hebrew. JDC Jewish Service Corps Fellows Molly Friedand Sarah Goldenstein check-in from Berlin, where Bambinim Familyclub hosted Tu B'Shvat programming for...
Berliner Philharmoniker
Friday evening I had the pleasure to attend the Berliner Philharmonic. What an experience it was!  I was invited to join a fabulous evening of classical music with my Berliner friend and his Papa. Little did I know I was about to hear the world's number two orchestra.  I now consider myself an orchestral enthusiast. Anne-Sophie Mutter, an outstanding German violinist, was the special guest Friday...
Willkommen to Basel Dreiland
Willkommen Basel Dreiland! this past week I was hopping between Switzerland, France, and Germany in area reffrred to as Basel Dreiland, the three country corner, where Switzerland, France and Germnay meet. I traveled down to Basel Dreiland with the Bambinim Staff Team to meet our Director, to discuss future growth and planning for the Bambinim Familyclub center. This was my first trip to...
Chanukah at Bambinim
For each of Chanukah's eight days we celebrated with festivities, parties, storytelling, and activities at Bambinim. From decorating sufganiot, to reading a story about a Hebrew- speaking horse celebrating Chanukah, to puppet work shop, Bambinim was filled for eight days with wonderful Chanukah celebrations. We held over 10 activities in English, German, Hebrew, and Russian. During Chanukah I help...
Keramics!
During my last year at the University of North Carolina at Asheville, I discovered that I love ceramics! When I arrived in Berlin, I made it a top priority of mine to find a studio where I could work. After many failed attempts of speaking with different people and approaching local potters that I saw at street fairs, I came across an ad for a biblical ceramics course through the Jewish Center in...
Limmud Berlin, November 7, 2010
Hey Y'all! it is has been awhile since I last posted and I hope to get back into the swing of posting shortly. November has taken me many places both literally and figuratively, in and out of Berlin. From Limmud Berlin, to Warsaw, to my sister's engagement party in NY and 'Say Yes to the Dress', I've barely had time to catch my breath. In the next few days I plan on...
Berlin. Bambinim. Guten Tag!
Just four weeks ago I arrived in Berlin, Germany.  I am living here for the next twelve months as a JDC Jewish Service Corps Fellow, working for the American Jewish Joint Distribution Committee, the largest Jewish aid organization in the world.   Prior to my arrival, even as I was signing my JDC contract, I remained uncertain of what exactly my role, my objectives, and my purpose would be in...